Thunderbird Coffee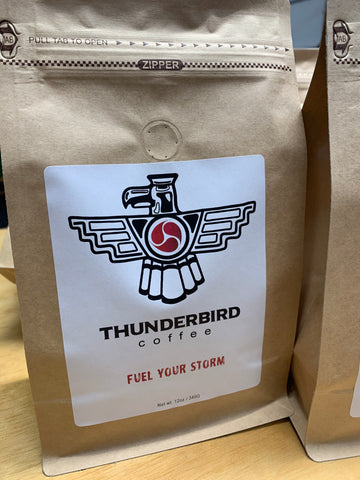 Thunderbird comes to us after years of research and experimentation by coffee fanatics, Curtis Durocher and Justin Rodhe.
Proudly roasted in Nova Scotia, Canada by Fullstrong.
Dry notes provide florals, chocolates, ripe fruit and hardwoods. It produces a very smooth cup of coffee perfectly blending the complexity of light roast to the familiarity of dark roast. When brewing you can pick up essence of butter and will want to eat the grounds with a spoon! 
A cup of coffee so good, you won't put the mug down. And we suggest not walking too far from the coffee pot...
"Thunderbird coffee feels like food"
"A smell so good, it goes right through your face mask."
"Thunderbird is like a conversation with Coach Rodhe, insightful and robust."
"I've switched my normal coffee subscription to Thunderbird. Its amazing and hands down the best I've ever had."
Sold as whole bean. You will need a grinder.
---
More from this collection