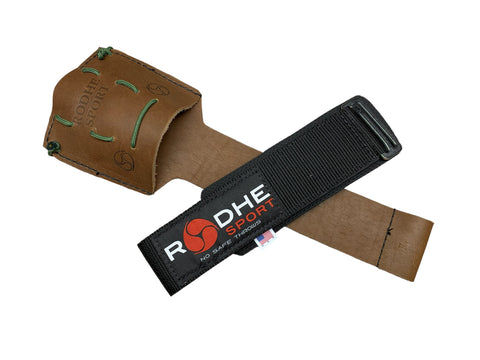 Protects the wrist, palm and fingers from injury while throwing heavy shots or stones. The glove is made of heavy duty leather and includes a professional wrist wrap. It slips easily over the first three fingers, taking only a few seconds to put on. It is fully adjustable to suit the individual throwers' taste. Over time the shot put glove molds to the throwers hand, forming a seamless protective barrier between the shot and the fingers. This makes the Shot Put glove great for extended throwing sessions or rehabilitation.
We offer International shipping options via DHL and UPS in check out. We also have an eBay store (rodhesport2129) as an option for shipping outside the U.S.


***NCAA Coaches***  If you need this product available through a specific vendor that you have under contract, let us know and we will make it happen!
All RODHE SPORT products are highly endorsed by World Champion Shot Putter, Christian Cantwell.
---
More from this collection