Cable Sling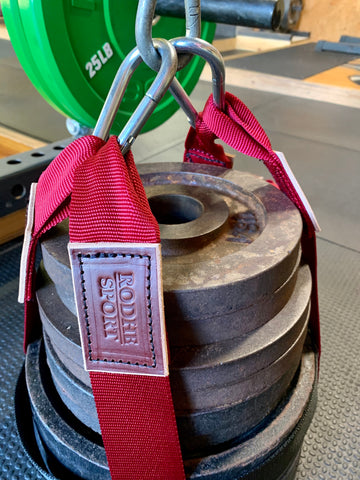 Change the cable game in your garage or home gym with our Cable Sling! Stop wasting time disengaging your cable to change plate load. Contain plates in a uniform stack that impacts the floor evenly. Quickly add any load increment to your next set to push for those every day gains!
Cable Sling uses 25 lb plates(up to 4) and then 10 lb plates can be added on top. Working load 150+ lb. Cable Sling Mini uses 5 lb plates(up to 10) and then 2.5 lb plates can be added on top. Working load 50+ lb.
Cable Slings can be used with many plate combinations, smaller plates may shift and have potential to fall out if operating at less than 50% of Sling volume. Use with caution!
Nylon and Veg Tan Leather construction. Hand made in America's heart of strength, the great state of OHIO. Invented, designed, and made by 2012 Shot Put Olympian and RS owner, Justin Rodhe.
*ships WITH OUT metal hardware.
---
More from this collection